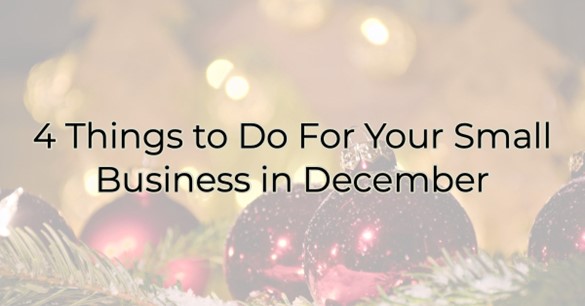 4 Things to Do For Your Small Business in December
The holiday shopping season is in full tilt right now and while you're busy analyzing your Black Friday and Cyber Monday revenue, there are a few things you want to do to capture those December holiday dollars.
Refresh Your Website
If you still have Black Friday info up there, it's time to strip it down and focus on last-minute shoppers. You want to ensure everyone knows the last days to order from you to meet shipping deadlines as well as what your availability is for pick-up or services. If you have hard-to-find items available, let people know. If you have space left for reservations, offer that on your front page. Websites are designed to feature the most up-to-date info so make sure you are using that space to drive the most sales.
Make an Offer
December has a way of getting away from people. We enter the month thinking we have an entire month to shop and before we know it, we're missing ordering deadlines and holiday shopping at a 24-hour grocery store as we head to a friend's house. That's why December is the perfect time to roll out a special deal. It doesn't have to be a loss leader. People are already in a need-to-buy situation. It's just a little something extra to make them feel the value behind what they're getting. That could be a coupon for a free dessert with every $100 gift card or special tote bags for purchases. Use a bonus offer with purchase to drive more sales.
Launch a Social Media Giveaway
A quick way to build your following (and your email list) is by launching a social media giveaway. Post on social media and encourage people to sign up for your newsletter/discount list. Then pull a name from that list and provide them with a gift card for your business.
Why not just limit the contest to social media posts and shares? Why require them to sign up for your mailing list? Because you don't own the information on social media. You need a way to contact your fans outside of social sites.
Highlight Past Purchases or Services
A confused mind doesn't act. You want to be clear about what you offer and what your customers receive. December is a great time to showcase what others have purchased or the services you have rendered. Spotlight clients. Show gift baskets or things you designed for them. When people see options, it's easier for them to make decisions. Difficulty kills more sales than cost.
December is the most frantic part of Small Business Season. But it's also an excellent time to help people when they need it most. You can make a big impression on customers when they're feeling stressed and frantic. Do what you can to make holiday shopping easier on them and you'll end up with fantastic end-of-year revenue.
Christina Metcalf is a writer/ghostwriter who believes in the power of story. She works with small businesses, chambers of commerce, and business professionals who want to make an impression and grow a loyal customer/member base. She loves road trips, hates exclamation points, and believes the world would be a better place if we all had our own theme song that played when we entered the room. What would yours be?
_______________________________________
Twitter: @christinagsmith
Facebook: @tellyourstorygetemtalking
LinkedIn: @christinagsmith