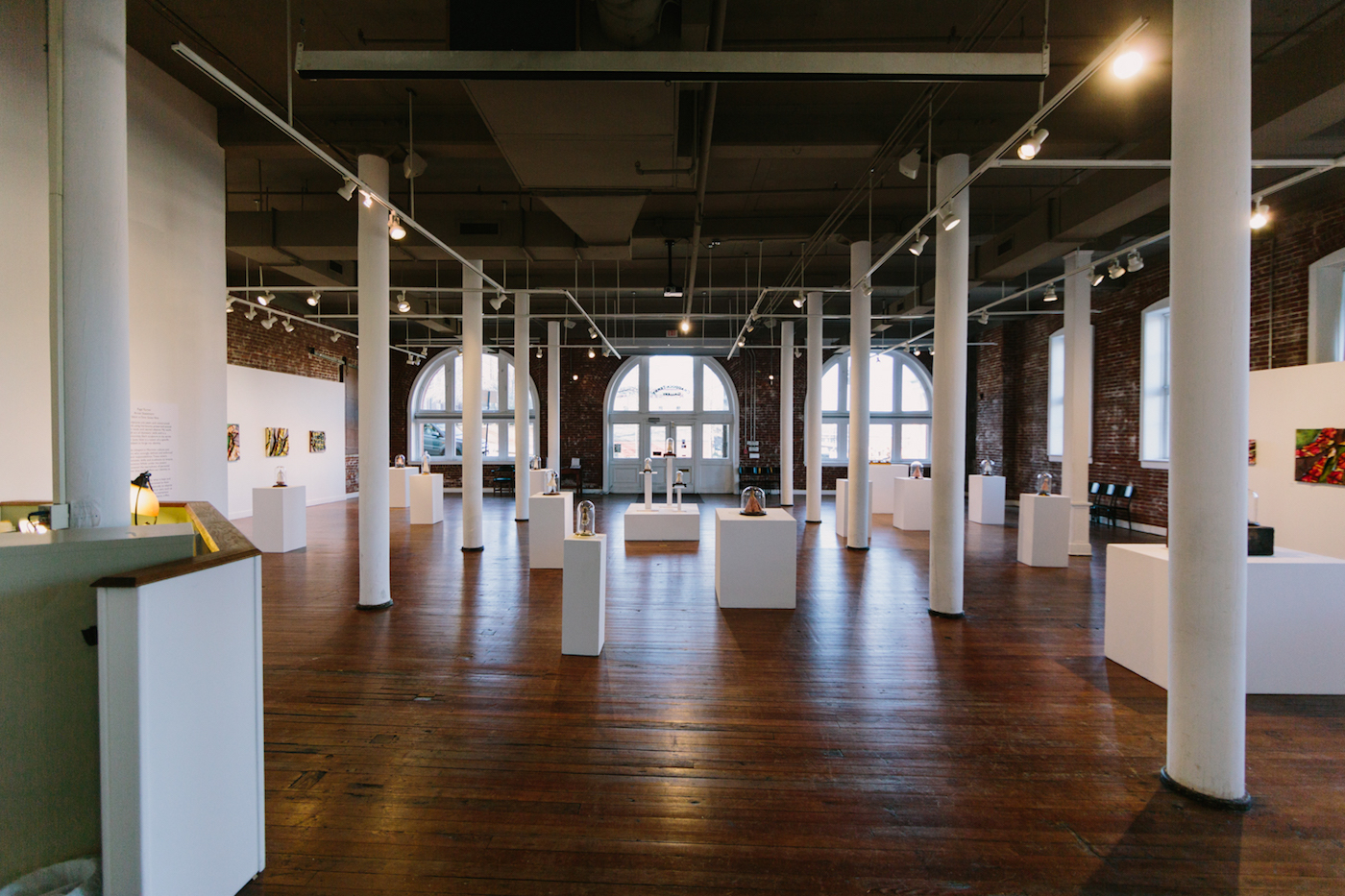 Riverviews Artspace Bolsters Downtown Revitalization with Innovative Art Programming
Providing innovative experiences for both artists and visitors alike within the confines of a rustic 1898 downtown building, Riverviews Artspace, along with the neighboring Academy Center for the Arts, is the cornerstone of the cultural hub experience in downtown Lynchburg.
The vision of Riverviews Artspace began in 1998 when the nonprofit's dynamic board came together to envision a meeting space with the intention of fostering creativity, engages artists, and provides the foundations for a thriving, collaborative community. Five years later, in 2003, Riverviews Artspace officially opened its doors, offering an eclectic mix of urban living spaces, studios, galleries, a movie theater, and gathering spaces that attract artists, tenants, patrons, and tourists alike.
Riverviews Artspace also offers a variety of unique events to engage the Lynchburg region, including the growing downtown corridor, with its art programming with the goal of enriching the lives of the community. For the past eight years, Riverviews' Beat Burg event highlights all word-centered art-centered art forms, including poetry, rap, and typography. At the April 2021 Beat Burg event, Riverviews Artspace partnered with MemberOne Federal Credit Union to showcase 30 poems alongside some of Lynchburg's most popular walking trails.
Additionally, on the first Friday of each month, from 5 to 8 p.m., Riverviews Artspace features an open house, called First Fridays, for artistic talent across the Lynchburg region. During each First Friday, new art exhibitions, both large and small, are featured at Riverviews, along with additional programming and other events. The event's goal is to make genuine art and the culture behind artistic creativity more easily accessible to the community across the Lynchburg region, provide an opportunity for artists, musicians, and small businesses to come together for the purpose of fostering creativity, and an entertaining evening for all to enjoy.
"Riverviews Artspace is an incredible venue and destination for the arts in downtown Lynchburg," said Bonnie Svreck, Former City Manager of Lynchburg. "The energy and mix of art, ranging from visual mixed media to film, to literary events, is phenomenal," Svreck added.
Riverviews Artspace has a variety of additional events, some of which have been postponed to 2022 due to the COVID-19 pandemic, and you can read more about those events HERE. Also, Riverviews offers the SPARKS membership program, which includes access to lab computers and the latest creative software, cameras, printer, scanner, and other equipment, as well as a growing collection of analog tools. You can read more about the SPARKS membership program HERE.
The incredible artistic and cultural contributions by Riverviews Artspace to both downtown Lynchburg and the rest of the region would not be possible without financial contributions from members of the community. For more information about how to donate to Riverviews, click HERE.
Riverviews Artspace is located at 901 Jefferson Street, Suite 113, Lynchburg, VA 24504. You can reach them by telephone at (434) 610-5447, or you can send them a message HERE.
To view upcoming volunteer opportunities and events, view Riverviews Artspace's page on SHARE Greater Lynchburg HERE.