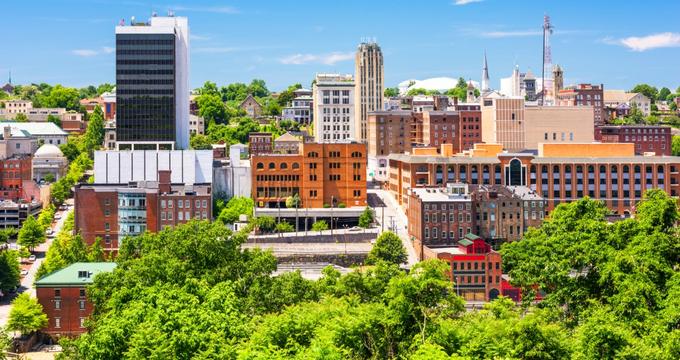 Downtown Lynchburg Association Boosts Regional Tourism Through Revitalization
For more than two decades, the Downtown Lynchburg Association (DLA) has worked to sustain and develop Downtown Lynchburg as a vital economic, cultural, recreational, residential, and historic center of the Lynchburg region. Accredited by programs in recognized civic development organizations including Virginia Main Street, National Main Street Center, and membership to the International Downtown Association, DLA utilizes marketing initiatives, public space improvements, business engagement programs, cultural events, and more to contribute to the establishment of a strong and vibrant downtown district.
Adopted in 2020, DLA's three-year strategic plan includes the fostering of a thriving and diverse storefront economy, cultivating a lively and engaging downtown atmosphere, creating a truly welcoming environment and increasing DLA's organizational effectiveness to deliver on its mission. The project's research phase helped yield some insights that helped DLA determine how the organization can be instrumental in moving the needle on downtown revitalization in a strategic and targeted way.
DLA highlights various opportunities for both newcomers and longtime residents of the Lynchburg region to make the most of the city's offerings in dining, shopping, art & culture, lodging & venues, outdoor recreation, event experiences, and picturesque retail properties. Additionally, the DLA strives to boost the economic development of the region by providing resources for businesses considering making their home in downtown Lynchburg, where the Alliance's own headquarters is located.
To commemorate Lynchburg's scenic Bluffwalk, overlooking the James River, the DLA gives members of the community the opportunity to make a mark with a personalized laser-engraved brick. Proceeds from the engraving of the bricks go towards the organization's downtown restoration projects. Also, in the Fall of 2021, the DLA is featuring Art Alley, a placemaking concept located at the intersection of 11th and Commerce Street, that will ultimately see an iconic city block in downtown Lynchburg transformed into a beautiful alleyway for both locals and visitors to enjoy. Lastly, the DLA also seeks to boost enthusiasm for the City of Lynchburg through commemorative merchandise, as well as offering the "Downtown Gift Card," that can be used at any participating business location in Downtown Lynchburg.
"I have been deeply humbled and grateful for the opportunity to be of service to the downtown business community," said Ashley Kershner, the DLA's executive director, in the organization's 2020 annual report. "It has only strengthened my appreciation for the joy and vitality of our city," she added.
The DLA would not be able to achieve and pursue the revitalization of Downtown Lynchburg without financial support from members of the community across the Lynchburg region. For more information on how to donate, click HERE.
The Downtown Lynchburg Association is located at 901 Church Street, Suite 103, Lynchburg, VA 24504. You can reach them by telephone at (434) 485-7520, or you can send them an email at info@ downtownlynchburg.com.
To view upcoming volunteer opportunities and events, view Downtown Lynchburg Association's page on SHARE Greater Lynchburg HERE.