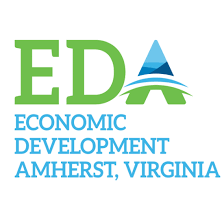 Amherst County Economic Development Supports Scenic Getaways for Adventurers of All Ages
Sponsored by a lucrative partnership with the Amherst County County Office of Economic Development, Amherst County's Parks and Recreation Department "advances parks, recreation, and environmental conservation efforts that advance the quality of life for all people."
Located between Lynchburg and Charlottesville, Amherst county conveniently offers both a short commute to the City of Lynchburg as well as access to iconic opportunities for outdoor enthusiasts and mountain climbers in the 57,000 acres of the George Washington National Forest. The county's parks and recreation department manages five scenic county parks throughout Amherst County, none of which would be possible without financial backing from the county's economic development initiative.
Just across the James River, visitors to downtown Lynchburg will not want to miss Riveredge Park, which offers boat and fishing access on the James, and can be easily accessed off Rocky Hill Rd. Also located along the James River, Monacan Park, residing in the Elon area of Amherst County, just a short drive from downtown Lynchburg, features a covered picnic pavilion and picnic area, a play area for children, as well as a dock and boat ramp for fishing enthusiasts.
Situated in the Temperance area of the county, Mill Creek Park rests on a 190-acre lake and is very popular with fishermen in the Lynchburg region, and also features a boat ramp, picnic tables, grills, and a play area for children and families. Located in the same region of Amherst County as Mill Creek Park, Stonehouse Lake Park offers a very similar experience on a 41-acre watershed lake that both fishing enthusiasts and families with children can enjoy.   Lastly, Thrashers Lake Park offers a third opportunity for those operating non-gasoline-powered fishing boats to take advantage of the park's 36-acre lake.
Amherst County offers more adventure than the laid-back offerings of its five-county parks, however. The historic Virginia Blue Ridge Railway Trail, running along the banks of the Piney and Tye rivers, follows the path of the longest, commercially successful short-line railway in America, and provides a perfect opportunity for visitors to relive historically significant events that changed both Amherst and Nelson Counties. The trail system is four miles long, split evenly between Amherst and Nelson counties, and features access points currently located at Piney River and Roses Mill.
Outdoor recreation enthusiasts will not want to miss the iconic Appalachian Trail, twenty-five miles of which pass through Amherst County, from the Nelson County border to the James River. Additionally, the county's scenic Henry Lanum Memorial Trail, located in the Mount Pleasant National Scenic Area, features a 4.8-mile loop leading to the 4,071-foot summit of Mt. Pleasant, with panoramic,360-degree views of the Lynchburg region. Lastly, the Old Hotel Trail, accessible from the Appalachian Trail, forms a five-mile loop around the summit of Cole Mountain, featuring fantastic views of Amherst County and the surrounding region.
Amherst County's Parks & Recreation Department also features recreational programs intended to help empower and enrich the local community, aimed at youth, families, and senior citizens. To find out more about these programs, click HERE
To find out more about how you can volunteer to make a difference in Amherst County Parks and Recreation Department's mission of advancing the quality of life of the region through scenic parks and recreation opportunities, click HERE.