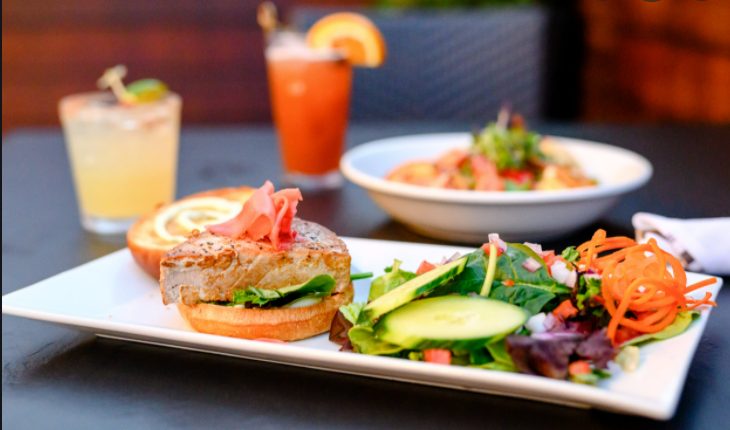 Downtown Dining Scene Showcases why Lynchburg is an Ideal Place to Live, Work, & Play
One of the reasons why the City of Seven Hills is such a great place to work and play is because of its vibrant downtown dining scene. From Al Fresco dining with handcrafted cocktails alongside Downtown Lynchburg's scenic Bluffwalk, a pedestrian walkway providing scenic views of the James River and the nearby Blue Ridge mountains, to modern dining options alongside Lynchburg's historic main street, downtown Lynchburg's dining scene has something for everyone!
Along Main Street, lovers of classic, all-American cuisine will want to check out the Market at Main. In operation since 2009 and operating in two newly renovated historic buildings, the Market at Main features entrees named for local and historical figures, along with its sweet potato pancakes, mozzarella Caprese salad, and lightly battered shrimp. Just a few blocks away, the White Hart café is an absolute must for coffee lovers, offering a can't miss selection of sandwiches, buffalo chicken sliders, gourmet pastries, and more!
Just across the street and around the corner, both visitors and residents of the Lynchburg region won't want to miss Crisp Salad & Juice Bar, offering a delicious and healthy collection of salads, wraps, bowls, and juices. Pastry lovers will want to walk just a block over to check out Father's Café & Bakery, located inside the Lynchburg Community Market, at the corner of 12th and Maine St. Operating Tuesday through Saturday, Father's Café & Bakery offers traditional American foods with a touch of European cuisine.
Since its completion in October of 2015, the aforementioned Lower Bluffwalk is a series of walkways, overlooks, trails, and staircases that connect both Jefferson and Commerce St, just a few blocks below Lynchburg's historic Main St corridor. The walkway can be accessed from either the quaint, 19th century Craddock Terry Hotel or the Jefferson Street stairs and provides access to a variety of vibrant dining options.
Those traveling the Bluffwalk will certainly want to check out Waterstone Pizza, offering a savory blend of hand-tossed pizza ingredients toasted on a fire-roasted crust. Nestled just between the Bluffwalk and the James River is another one of downtown Lynchburg's classic eateries, the Water Dog, which offers a vibrant selection of three-dozen craft beers, grilled burgers, and much more!
Lastly, those looking for the ultimate, elegant dining experience in downtown Lynchburg cannot miss either of the top-notch options at The Virginian Hotel. Originally created by two seasoned steakhouse operators, the William & Henry Steakhouse brings over six decades of fine dining experience to the table, offering USDA prime steaks and premium seafood in an elegant new venue adjacent to the hotel's lobby. Featuring a completely different experience, the Skyline restaurant, located on the Virginian's spacious roof, provides a wonderful view and taste of the city. Whether culinary lovers are looking for comforting cuisine, a relaxed atmosphere, or the perfect date night experience, The Skyline has something for everyone.
Downtown Lynchburg's impressive dining options show that the Lynchburg region is more than just a great place to do business, it's an experience that deserves to be enjoyed to its fullest.