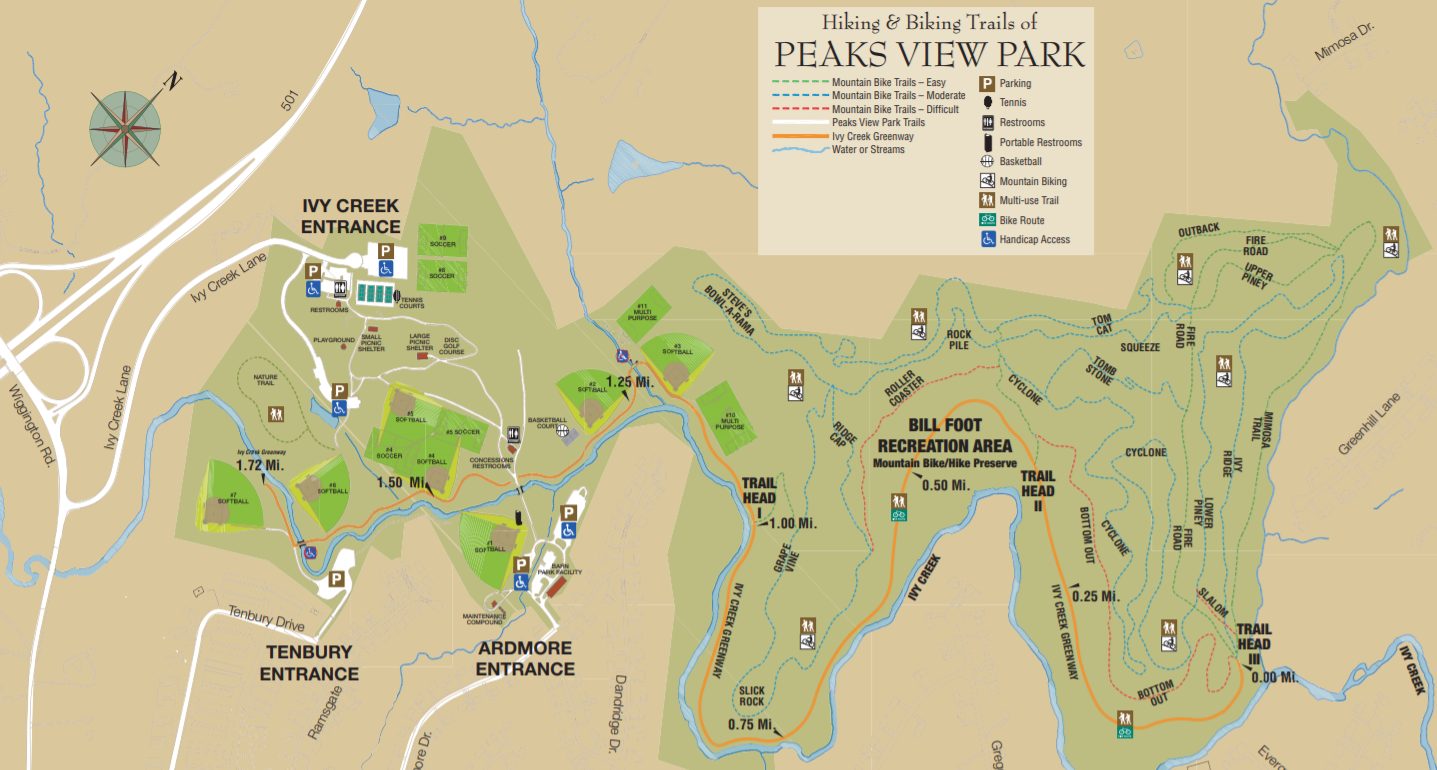 Peaks View Park Offers Passive & Active Recreation for Families Across Lynchburg Region
As the second-largest park in the City of Lynchburg, Peaks View Park offers passive and active recreation for the entire family. Part of the City of Lynchburg's Parks & Recreation's expansive system of 17 parks and 40 miles of trails in and around the city, Peaks View Park offers a scenic getaway and a place to relax just minutes from downtown Lynchburg.
Originally, Peaks View Park existed as a local dairy farm and was part of the infrastructure complex for a privately developed residential subdivision called Blue Ridge Farms. In 1979, planning work for the farm began, Peaks View Park opened in 1983, and improvement activities were concluded in 1986.
Peaks View Park offers a variety of attractive amenities, including tennis courts, seven multi-purpose fields, a basketball court, mountain bike trails, a playground, picnic shelters, and access to the ADA-compliant Ivy Creek Greenway. Additionally, Peaks View Park is home to one of the most popular and challenging disc golf courses in the Lynchburg region.
The Ivy Creek Greenway, a trail that runs parallel to Ivy Creek which flows through the center of the park, is accompanied by additional walking trails that are found throughout the park. These paved walking trails provide opportunities for visitors from across the Lynchburg region to discover the park, with the backdrop of nearby Ivy Creek. Peaks View Park's popular exercise course can also be accessed from either area of the park, as it is not a loop course.
Lastly, Peaks View Park offers mountain bike trails located near the Bill Foot Recreational Area near the Ardmore Drive and Tenbury Drive entrances. Named after local trails champion, Bill Foot, volunteers from the Greater Lynchburg Off-Road cyclists help to plan, maintain, and improve the trails. Each trail is constructed and maintained according to beginner, intermediate, and expert skill levels, allowing them to cater to both guests seeking a challenge, or those looking for an easier ride.
For a map of the mountain bike trails, click HERE.
For a map of Peaks View Park, click HERE.
Peaks View Park is located at 170 Ivy Creek Lane, Lynchburg, VA 24502, off the Desmond T. Doss (US 501) expressway.
For more information on the Parks & Recreation system operated by the City of Lynchburg, please contact Parks and Recreation-City of Lynchburg by telephone at (434) 455-5858, sending them an email at customerservice@lynchburgva.gov, or visiting their main office at 301 Grove Street, Lynchburg, VA 24501.
To donate to Lynchburg Parks & Recreation, click HERE.