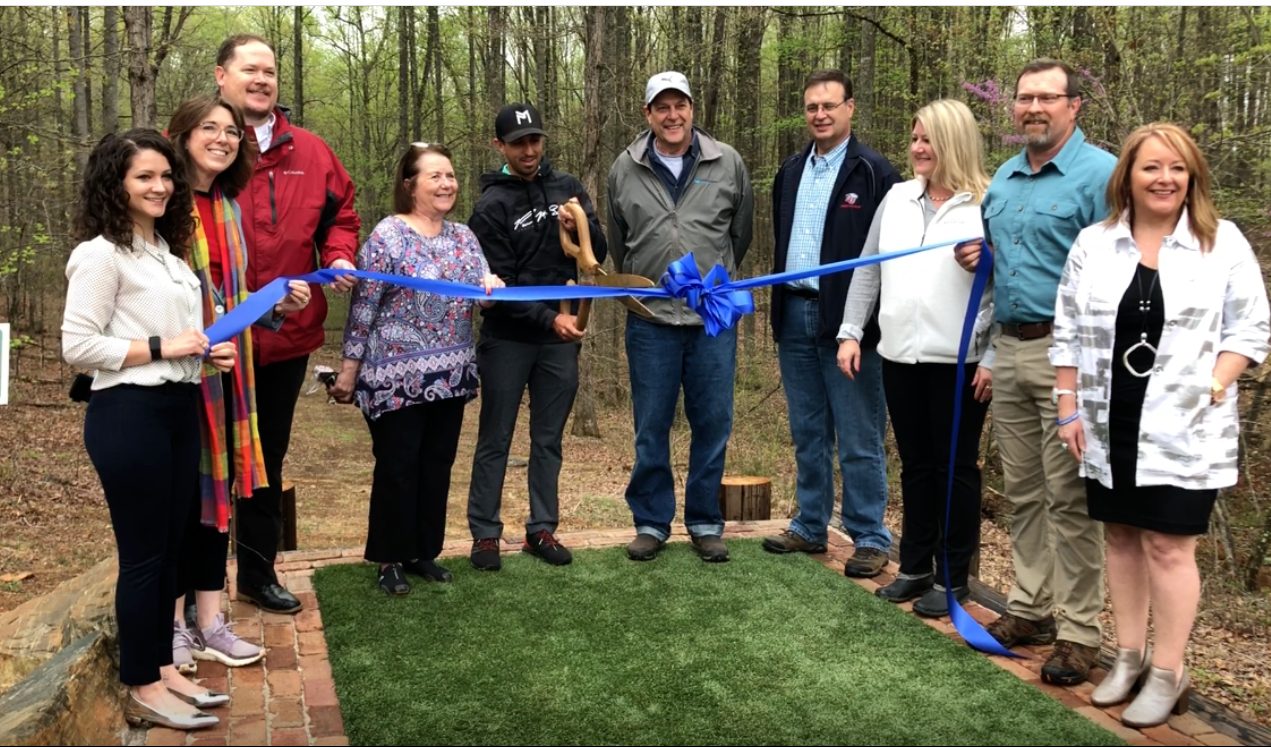 New Bedford County Championship-Style Disc Golf Course Brings Outdoor Competition to Lynchburg Region
Just a few short months ago, on April 9th, 2021, a new championship disc golf course, in partnership with the Bedford County Economic Development Authority, was premiered at the New London Business & Technology Center. Designed by Paul McBeth, a five-time disc golf world champion and resident of Bedford County, it was developed through the dedicated and hard work of Bedford County Parks and Recreation (BCPR) staff members, community volunteers, and 20 business and community partners that provided funds through hole sponsorships.
Coordination between three county departments was necessary to make the course a reality, due to the course being featured at the New London Business & Technology Center, which is owned by the county's Economic Development Authority (EDA). Furthermore, the Bedford Regional Water Authority had an easement on the land across the industrial park where the course was to be built. However, given the project's potential and significance for the Lynchburg region, all three departments, including BCPR, and made the disc golf course a reality.
The two-mile course features 18 disc holes and is the first of its kind for Bedford County. The disc golf course is free for the general public to use at any time, as long as players bring their own discs. The course also adds more recreational space to the industrial park's New London Tech Trail, a seven-mile wooded trail created for running, biking, and walking.
The event's ribbon-cutting attracted over a hundred guests from the Lynchburg region, community and business partners, and McBeth himself. McBeth remarked that seeing dozens of athletes and residents present for the course's ribbon cutting back in April of 2021 was "overwhelming," and that he was "excited to share his passion for the sport" with them. The Bedford County golf course, complete with McBeth's own signature-style baskets, are exclusive only to courses that McBeth has designed, with Bedford County's being the first.
"This is a true professional course," elaborated McBeth, who says he expects the "European-style" course to attract disc golfers from all over the country and all over the world. Nicole Johnson, Bedford County's director of tourism, is very excited about the project's potential to bring more visitors to Bedford County. Knowing that adventure tourism is on the rise, Johnson's goal is to market the course to professional disc golfers in such a way that they are encouraged to visit the area for more than one day and investigate some of the other opportunities the Bedford area has to offer.
With multiple disc golf courses in the area, including Bedford County's Falling Creek, Lynchburg's Peaks View Park, and Liberty University, the Lynchburg region truly deserves to be explored and enjoyed by outdoor recreation enthusiasts of all kinds.