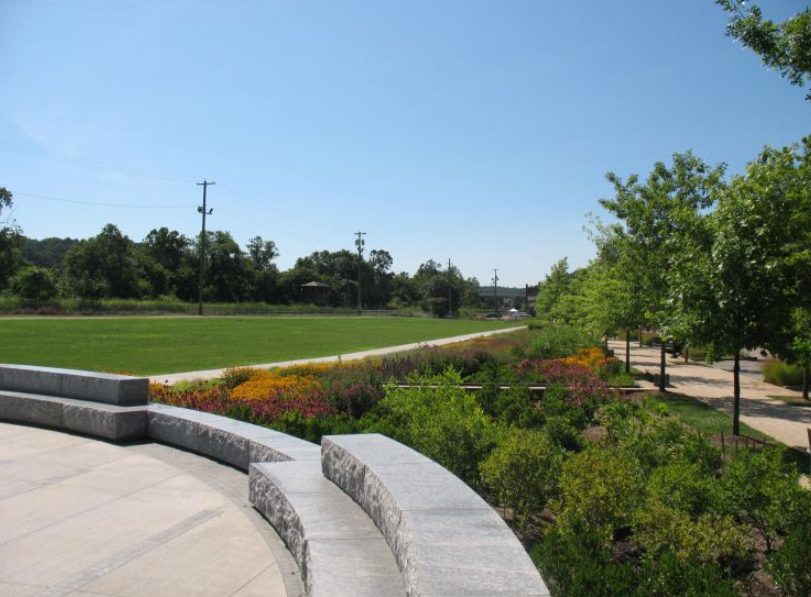 Riverfront Park Provides Gateway to Downtown Lynchburg Experience
Located near the edge of the James River in downtown Lynchburg, Riverfront Park, a popular recreation area managed by Lynchburg Parks & Recreation, features a large open field suitable for festivals and other special events. The outdoor recreation area also connects to the Riverwalk Trail at its northern end, featuring the unforgettable "LOVE" sign, and giving guests access to Percival's Island, a natural area along the James River.
Additionally, parking is also available on nearby streets in downtown Lynchburg. The park's terrain, featuring level ground near the riverbank, makes it ideal for a stroll or a bike ride.
Riverfront Park reopened to the general public on May 22nd, 2010, after a series of renovations. These improvements include rain gardens, a zero-depth fountain, boardwalks, benches, new shade trees, and a stage area for events. Large events have made Riverfront Park their home, including Lynchstock Music Festival, an outdoor music festival featuring performing artists from across the Lynchburg region.
Riverfront Park is also conveniently located to modern and elegant dining options across downtown Lynchburg. Outdoor dining options such as The Depot Grille and  The Water Dog provide excellent views of the James River area, and are also within walking distance of Riverfront Park, making it an ideal place to spend an evening.
Also, just a short walk away from Riverfront Park is the scenic Bluffwalk, a scenic walkway that overlooks the James River and the Jefferson Street corridor in downtown Lynchburg. The walkway also provides access to additional must-experience dining options, including the Ploughcroft Tea Room, Waterstone Pizza, and more!
The park is also within walking distance of Lynchburg's growing art and cultural centers, including Amazement Square, located just a few blocks to the north of Riverfront Park. Here, children can learn the history of the Hill City, try their hand at building electrical circuits, or climb Amazement Tower, a series of tunnels and climbing nets that run the height of the building from one floor to the next. Additionally, visitors and guests should be sure to check out Riverviews Artspace, located just across the street from Amazement Square, a co-op and gallery space for local artists, featuring a wide variety of exhibits that can be browsed all year long.
Riverfront Park is more than just a place to have fun and relax but is also a gateway to the excitement and beauty of Downtown Lynchburg!