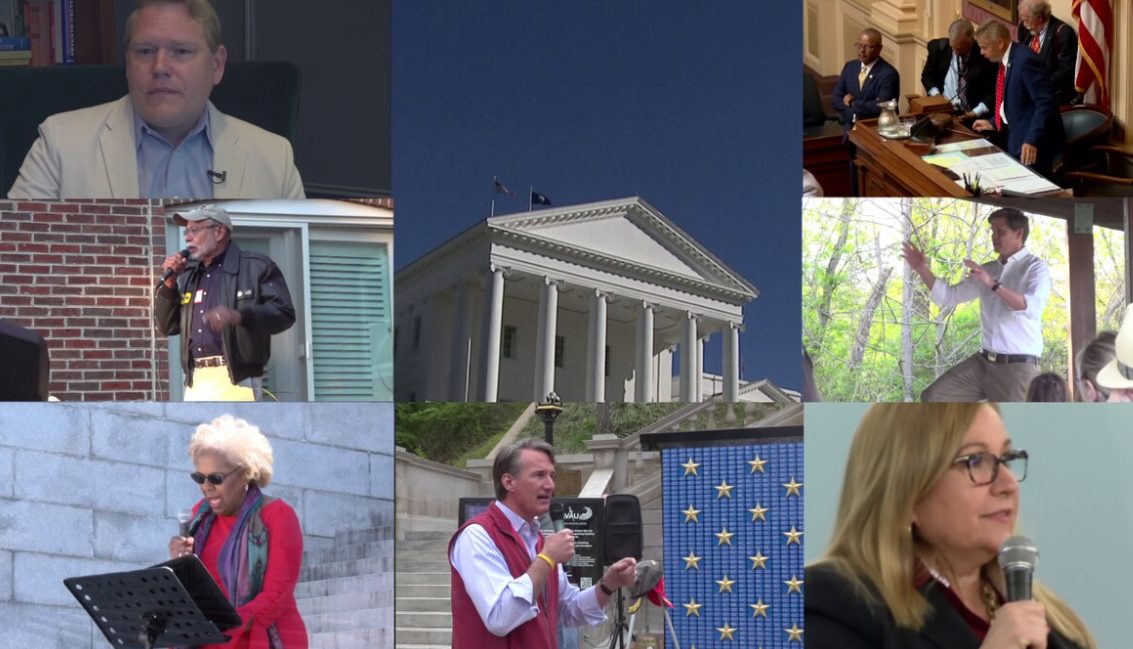 Virginia GOP Convention Results Give Preview of Consequential Statewide Races This Fall
On May 8th, 2021, at thirty-nine drive-thru sites across Virginia, thousands of convention delegates decided via remote vote who will be representing Virginia's Republican party for governor, lieutenant governor, and attorney general in the state's upcoming election in November of 2021. In contrast, the state's Democratic party will hold their elections through a primary format, rather than through a convention, a month later, on June 8th, 2021.
The convention used a new and unique form of electoral tallying known as ranked-choice voting, an electoral system in which voters rank candidates based by preference on their ballots. If a candidate wins a majority of first preference votes, he or she advances to the next round, and the candidate with the least number of first preference votes is eliminated, and that candidate's votes are distributed to the remaining candidates, based on second-preference votes indicated on those ballots.
Next, a new tally is conducted to determine whether any candidate has won a majority of the adjusted votes. The process is repeated until a candidate wins an outright majority of votes.
Through this method, gubernatorial nominees including Octavia Johnson, Peter Doran, Sergio De La Pena, Kirk Cox, and Amanda Chase were eliminated. The gubernatorial nomination came down to a two–way race between Glenn Youngkin and Pete Snyder, the latter of whom founded the investment firm Disruptor Capital in 2012. Chase's and Cox's second preference votes broke in favor of Youngkin, allowing him to defeat Snyder and clinching the gubernatorial nomination for the Virginia GOP.
After several rounds of counting, Glenn Youngkin emerged victorious, ultimately defeating fellow candidate and business professional Peter Snyder, 54.71% to 45.29%, as the state Republican party's nominee for governor, accompanied by Jason Miyares and Winsome Sears as the party's nominees for attorney general and lieutenant governor, respectively. Youngkin served as the co-CEO of the Carlyle Group, a global investment firm. Miyares is the son of Cuban immigrants and represents the 82nd District in the Virginia House of Delegates, which encompasses the Virginia Beach area. Lastly, Winsome Sears formerly served in the U.S. Marines and represented the 90th District in the Virginia House of Delegates from 2002 to 2004.
In the lieutenant governor and attorney general races, similar processes played out based on ranked-choice voting. In the primary contest for lieutenant governor, Winsome Sears led throughout. However, Jason Miyares faced a very significant challenge from Amanda Chase - backed C.L. Smith, J.R, after widely being  Complete and total analysis of the Virginia GOP Convention's results, provided by Virginia Public Access Project can be viewed here, and the Alliance plans on conducting a similar post – mortem of the Virginia Democratic primary for their respective candidates once the results of their June 8th primary contest are finalized.
On the Democratic side, former governor Terry McAuliffe is widely expected to win his party's nomination for governor, featuring a wide polling lead over a crowded field of several candidates, including current Lt. Governor Justin Fairfax, state senator Jennifer McClellan, former state delegate Carrol Foy, and delegate Lee Carter, all who are polling in the single digits.
Attorney general Mark Herring leads his party's support for the state's top law enforcement position, leading delegate Jerrauld "Jay" Jones 42% to 18%, although 50% of voters are undecided, indicating that Herring could be vulnerable to a primary challenge. Lastly, in the contest for lieutenant governor, nearly two-thirds of registered Democrats, 64%, are undecided, but for the moment, delegate Sam Rasoul leads with 12%, with the other candidates currently in the race receiving more than two percent in the state.
Demographic changes in the state of Virginia have given Democrats an edge in statewide elections, as no Republican has won statewide since Bob McDonnell's 2009 landslide victory. Election analysts have argued that Virginia's off-year elections, shared only with Kentucky and New Jersey, tend to break against the party holding the White House. However, McAuliffe broke this trend when he won the governorship in a close 2013 victory, narrowly defeating then-attorney general Ken Cuccinelli in a closer than expected race.
When it comes to the lieutenant governor and attorney general positions in Virginia statewide elections, the level of ticket-splitting is usually not sufficient to deny the party that wins the governorship a sweep. For example, when Ralph Northam won the governorship, 54% to 45% in 2017, Mark Herring led in the final vote count to become the commonwealth's attorney general, 53.3% to 46.7%, and likewise, Justin Fairfax was elected to become the state's lieutenant governor, 52.7% to 47.3%. This goes to show that although Justin Fairfax and Mark Herring ran behind Ralph Northam, the top of the ticket still helped ensure that the gubernatorial, lieutenant governor, and attorney general candidates from the winning party all claimed victory in the final vote count.
Election analysts agree that Democrats start off with the advantage in the race, but many of those same analysts, including some on the Democratic side, also believe the race will be competitive. The last time Republicans won the governorship, in 2009, both Mark Warner and Tim Kaine, both of whom represent Virginia in the U.S. Senate, had each won and served a term as governor prior to Bob McDonnell winning in 2009. Some media outlets also believe that Youngkin has the potential to make the race very competitive through his financial resources and potential to appeal to moderate, suburban voters in Northern Virginia and other populous areas of the commonwealth who have been averse to other GOP candidates.  J. Miles Coleman, the associate editor of Sabato's Crystal Ball, a political newsletter produced by the University of Virginia's Center for Politics, stated, "If Virginia was going to elect a Republican (for governor), this is the type of year that they will do it. We see the Democrats as favored, but it will not be a slam dunk."