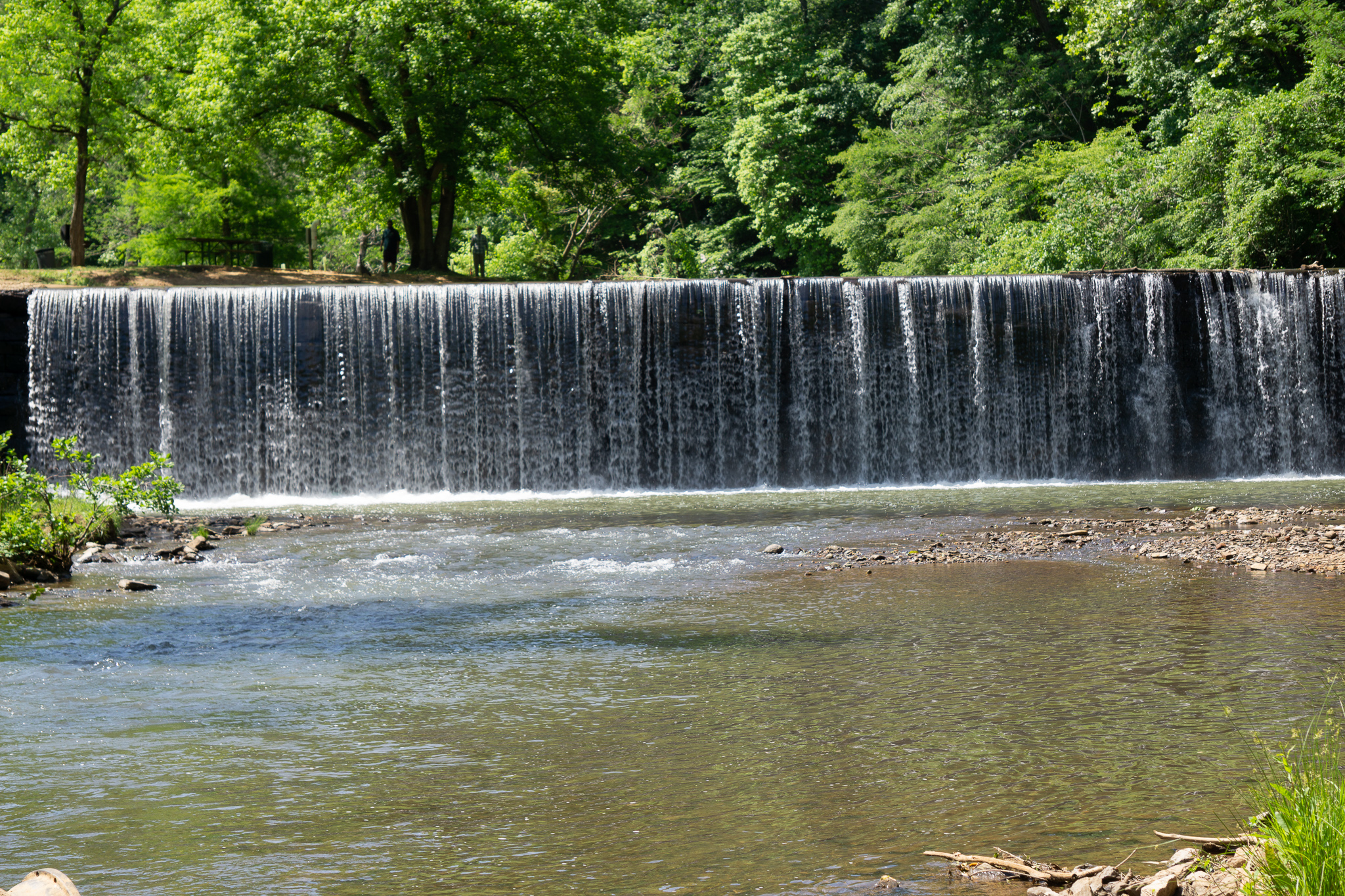 Hollins Mill Park Provides Outdoor Fun for Families Across the Lynchburg Region
Located a short drive away from downtown Lynchburg, Hollins Mill Park is one of the finest destinations for outdoor recreation offered by Lynchburg Parks and Recreation for residents and visitors to the Lynchburg region. The popular park provides access to Blackwater Creek and numerous biking and walking trails, a lush open field, fishing access, views of the historic Hollins Mill Dam, and picnic tables which are available for public use as well.
Before 1863, the property comprising Hollins Mill Park was owned by William Hollins, who owned a water-powered mill known as Blackwater Mills. Hollins sold the property during the Civil War, and it subsequently became known as Hollins Mill. The family were also benefactors of what would eventually become Hollins University in Roanoke, VA.
At the beginning of the 20th century, the building that stood on the grounds became known as Taylor Wagon Works, one of the largest and oldest wagon manufacturers in the country before eventually housing a mattress manufacturer. Sadly, in 1912, the building burned to the ground, but two years later, in 1914, the Smith family purchased the property and it remained in their hands until it was purchased by the City of Lynchburg to be used as a public park.
Hollins Mill Park also connects to another popular recreational destination in the Lynchburg region, the Blackwater Creek trail system. Built along the winding Blackwater Creek and an abandoned rail bed, this three-mile paved trail is ideal for jogging, walking, or biking. The Blackwater Creek trail system also connects to other scenic trail and natural recreation opportunities, including the popular RiverWalk trail which connects historic downtown Lynchburg with the scenic James River and Percival's Island, as well as the Kemper Station trail which connects the Blackwater Creek Trail with Lynchburg's historic Kemper Street Train Station.
Visitors to Hollins Mill Park can access the Blackwater Creek trail system through the Point of Honor trail, a 1.5-mile spur trail that passes through the park. To view a map of Lynchburg's entire trail system, provided by Lynchburg Parks and recreation, click HERE.
For more information about Lynchburg Parks and Recreation, click HERE
To donate to Lynchburg Parks and Recreation, click HERE
Hollins Mill Park is located at 521 Hollins Mill Rd, Lynchburg, VA 24504.
For more information about Hollins Mill, or any other parks and recreational opportunities in the City of Lynchburg, please contact Lynchburg Parks and Recreation by telephone at (434)-455-5858, or by email at customerservice@lynchburgva.gov. Lynchburg Parks and Recreation's administrative offices are also located at The Miller Center, 301 Grove Street, Lynchburg, VA 24504.