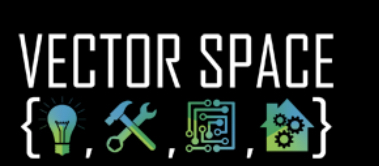 Vector Space Empowers Creatives to Make a Difference Across Lynchburg Region
In 2015, Adam and Elise Spontarelli founded Vector Space, a nonprofit makerspace, a physical place for people interested in science, technology, engineering, art, and mathematics to contribute to building the things that interest them. Students, hobbyists, and professionals can build their craft, develop new skills, and share their knowledge with others at Vector Space. Through paying a monthly fee, lifelong learners can expand their knowledge and explore their interests through hands-on projects, emphasizing the connection between personal interest and academic learning of science, technology, art, and mathematics.
Vector Space builds upon the educational philosophy of Lev Vygotsky, John Dewey, Simone Giertz, and others, believing that teaching without doing is an incomplete lesson. Hands-on, experience-based learning allows for a wide range of emotions, from elation to when a project is created successfully, to dejection when success simply is not achieved. However, both experiences have learning in common, and that learning experience is the common thread of how Vector Space is making a profound impact in the Lynchburg region.
To empower the region to participate in their makerspace, Vector Space offers a monthly membership that includes a key to the space, access to tools and talented members of the creator's community, as well as discounts on instructor-led workshops and projects. The cost for membership is $60 per adult, $85 per couple, or discounted to $40 for veterans or full-time college students. Members must be enrolled for at least three months for safety, liability, and logistical reasons.
The nonprofit makerspace also hosts a variety of educational classes and activities, including workshops, projects, and camps. Workshops are a great low-cost opportunity for those interested in the region because they are open to the general public, do not require a membership, are short-term and usually focus on a single skill, such as 3D Printing or using a laser cutter. Other workshop topics include wood working, welding, blacksmithing, electronics and coding, sewing, and screen printing.
Projects and camps at the makerspace offer educational opportunities for teens. Much like an athletic competition, teammates work closely with each other and Vector Space instructors to learn necessary skills to solve the problems they have been given. Some of these projects include building and racing RC cars, building a quadcopter from scratch, launching balloons into space, and installing connected water monitoring stations into local creeks around the area.
Vector Space also gives talented members of the community the opportunity to teach a class, earning up to half of the course income! Instructors are given permission to recruit students, build a syllabus, and develop a budget around the necessary workshops. Some prior instructor-led courses have included sewing, rocket building, and computer networking.
Additionally, the creative nonprofit is making a difference in the region through events and contests like Maker Faire Lynchburg, a series of videos intended to take viewers behind the scenes with local makers. The Faire featured over 20 interviews, shop tours, tutorials, and more to give viewers a glimpse of the motivation and momentum that drives makers around the Lynchburg region. "We searched for a way to take our normally in-person event and replace it with something unique and valuable in a virtual format," says Maker Faire Producer Elise Spontarelli, "The results are an excellent compilation of local makers, showcasing the variety of talent and promoting small businesses in the region."
You can view more about the Maker Faire Video Series HERE.
Vector Space is making an impact by empowering the Lynchburg region to participate in creative activities. While member dues support the organization, Vector Space would not be able to succeed without the support of many donors from around the region. To become a donor, click HERE.
Vector Space is located at 402 Fifth Street in Downtown Lynchburg, VA, just up the street from the Alliance headquarters. You can contact them by telephone at (434) 515-1584, or by email at info@vector-space.org
For more volunteer opportunities please visit their page on SHARE Greater Lynchburg.com HERE.