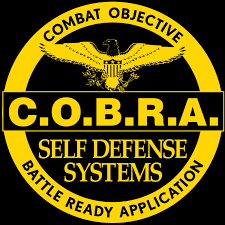 Member Monday: C.O.B.R.A Self-Defense VA
Combining experience in law enforcement, close-quarter combat techniques, martial arts, and the psychology of criminal intent, the Combat Objective Battle Ready Applications, or C.O.B.R.A. Self-Defense, for short, is a highly effective combat training system in real-world situations where individual survival is on the line. C.O.B.R.A. offers self-defense and combat training classes developed from real law-enforcement training and field experience for adults, child abduction prevention, internationally recognized active shooter response plans, self-defense for business and corporations, martial arts classes for children and families, and online self-defense classes as well.  For more information and to see a schedule of C.O.B.R.A.'s self-defense events and classes, click HERE.
C.O.B.R.A. Self-Defense VA is located at 14805 Forest Road, Suite 223, Forest, VA 24551. You can reach them by telephone at (434) 386-1547, or you can send them an email HERE.