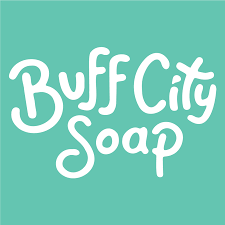 Member Monday: Buff City Soap
Today's #MemberMonday is Buff City Soap!!
Looking for a more innovative and creative alternative to commercial soap's use of harsh chemicals, detergents, and fats? Buff City Soap makes an assortment of handmade, plant-based soaps right here in the Lynchburg region! As a part of their mission to create genuine, authentic products that are good for consumer health and great for the environment and you, Buff City offers an unforgettable lineup of individually handcrafted soaps, bath bombs, shower oils, and other products made with natural ingredients!
"I'd love to be able to offer people an alternative to the detergent-based, commercial soaps because what you put on your body is just as important as what you put in it," shared one anonymous guest. In addition, Buff City Soap's full product line is available in each and every one of their stores, across the nation! To learn more about Buff City Soap's national collection of stores, or to learn more about their product line, please visit their website HERE.
Buff City Soap is located at 3911 Wards Road, Suite G, Lynchburg, VA 24502, across the street from the Lynchburg Sam's Club and Wards Rd. pedestrian bridge. You can reach them by phone at (434) 215-3503.