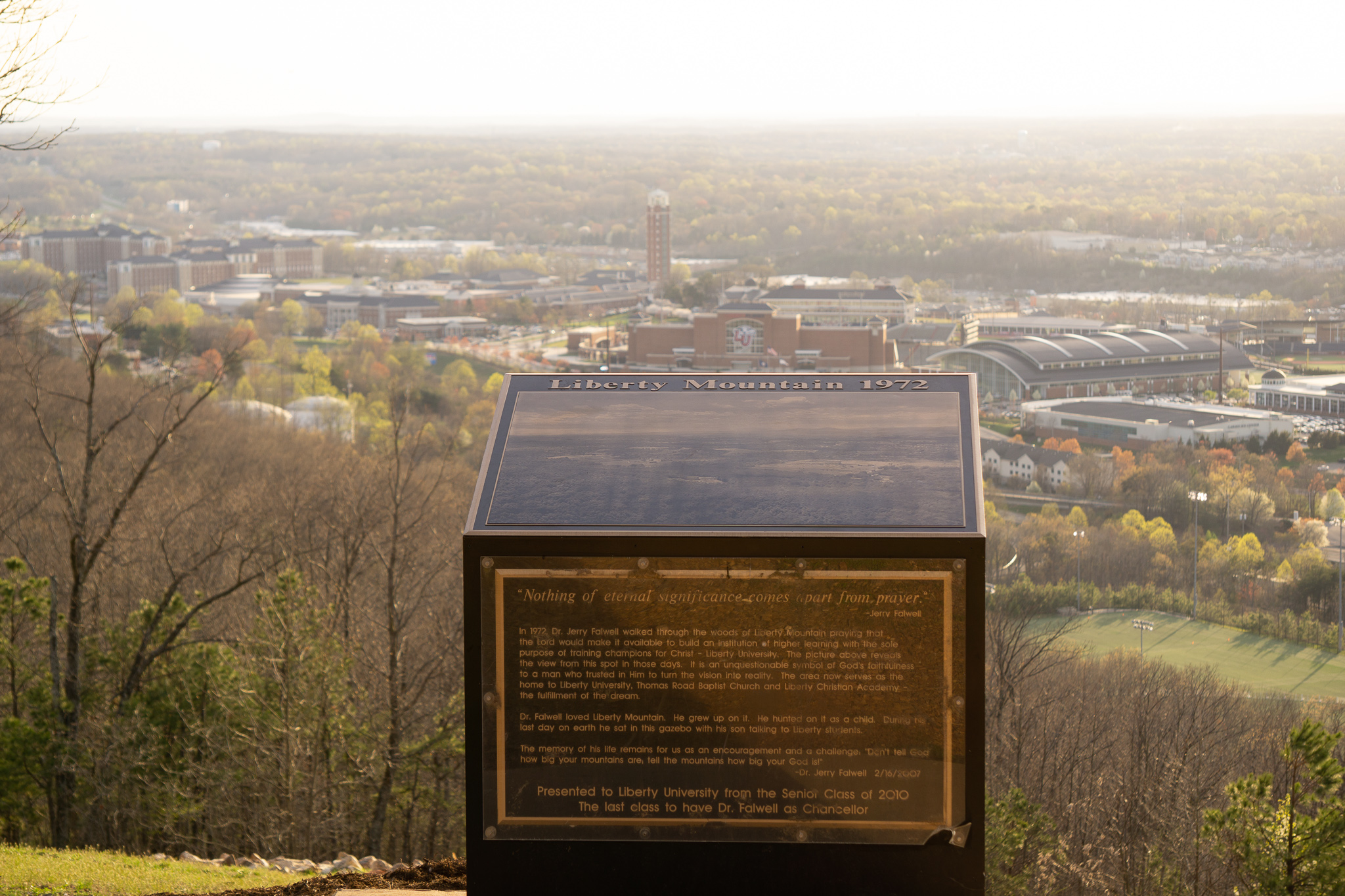 Liberty Mountain Trail System Provides Wilderness Escape Minutes from Downtown Lynchburg
Sprawling over 5,000 acres, the Liberty Mountain Trail System is a wilderness escape behind the campus of Liberty University, one of the largest institutions of higher learning in the Commonwealth of Virginia. The trail system features fifty miles of consistently maintained single and double-track trails and fire roads, and is the perfect opportunity for outdoor enthusiasts to enjoy challenging gravity-driven trails with the benefit of shade and fresh air offered by lush forest and mountain terrain.
Outdoor recreation enthusiasts can enjoy incredible views of the Lynchburg region and the Peaks of Otter mountains from twin summits 1,350 feet above sea level from Liberty's "LU" monogram, carved into the mountainside, and the Snowflex Centre, both of which are accessible via the Liberty Mountain Trail System. The trails are also an ideal spot to watch the sunset behind Virginia's iconic Blue Ridge Mountains.
The trails were expanded and improved over the past ten years with help from Canada-based Whistler Trail Solutions, as well as work from Liberty's own Auxiliary Services. The university's outdoor recreation department currently maintains the vast mountain trail system, and also directs the six-race Liberty Mountain Trail Series, featuring 5K and endurance events during the fall, winter, and spring of each year.
The trails are a popular destination for outdoor recreation enthusiasts across the Lynchburg region, and were featured in a 2017 blog highlighting attractive mountain biking destinations across Virginia. Fans of disc golf, an outdoor sport that can be easily enjoyed with social distancing precautions in place, can enjoy two courses at different locations on either side of Liberty University, one at the edge of East Campus near the university's intramural fields, and the other behind the mountain near Hydaway Outdoor Center.
"This is one of the things that makes (Liberty) University pretty special, to have that much acreage that is enjoyable, recreational land, and being so close to the city of Lynchburg," shared Mike Ellsworth, Director of Liberty's Outdoor Recreation department. "You can go for a six-mile hike and feel like you're out in the middle of the wilderness," he added.
Dr. Clark Zealand, Liberty's associate dean of academics at the university's School of Education, noted that major improvements to the trail system have made it highly accessible to visitors of all ages. "They've done all kinds of additions to make it more inviting and more sustainable, including building bridges in places where it gets muddy and putting down rocks to solidify areas of the trail and guard against erosion," he said.
Outdoor recreation enthusiasts can also access a map of the expansive Liberty Mountain Trail System HERE.
The Liberty Mountain Trail System is open to the public from dawn until dusk, year-round. For more information about the trail system, please contact the Outdoor Recreation department of Liberty University's Campus Recreation, at outdoorrecreation@liberty.edu. For general recreation inquiries, you can reach Liberty's Campus Recreation Office at (434) 592-3158 or by email at campusrec@liberty.edu.