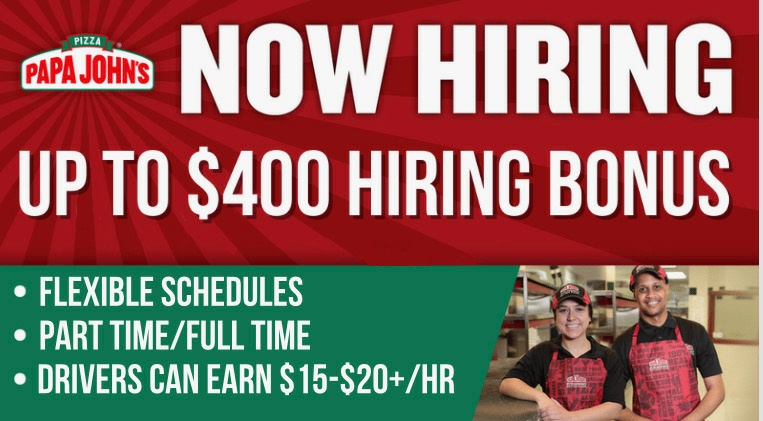 Member Monday: Papa John's Pizza
Attention all pizza lovers! Papa John's Pizza is looking to hire new restaurant team members, drivers, shift leaders, AGMs, and GMs.
Team members start out at $10.25 per hour and can earn a raise to $10.50 per hour after eight weeks if they learn basic station tasks, with the potential of up to $11.10 per hour if they learn other areas of the store. Drivers start at $9.75 per hour while not on delivery and $5.50 when on delivery with their split wage page, moving up to $10 per hour after eight weeks and learning the basic functions of the store.
Higher-level positions such as shift leaders start at $11.50 per hour and move up to $12.50 per hour once fully trained but can earn their fully trained pay immediately if they are skilled enough when hired. AGM's are paid $550 per week and are mostly selected from the existing pool of shift leaders, and GMs will be paid $770 per week, along with bonus pay ranging from $500-2,000 per month depending on performance.
Additionally, Papa John's is running a new incentive program for its employees, allowing new hires to earn up to $400 in additional pay for working at least twenty hours a week over the course of twenty-four weeks. This incentive offer is also available to any current employee who brings in a new hire who ends up staying with the company during that timeframe.
Papa John's Pizza is located at 7703 Timberlake Rd,  2810 Old Forest Road, and 113 Seminole Plaza in Madison Heights.
If you have any questions regarding Papa John's or employment opportunities, you can reach Joe Morgan, the area supervisor for Papa John's by telephone at (434)  665-0160, or by email at jmorgan@wflmgt.com