James River Adventures Provides Fun & Education on the Water for the Whole Family
Just across the water from historic downtown Lynchburg sits an amazing gem that serves as a gateway to fun, adventure, and education on the beautiful James River. Not only does this building house James River Adventures, Lynchburg's only riverfront outfitter providing paddle trips and rentals, it is the Lynchburg home of the James River Association (JRA), a nonprofit organization acting as the guardian of the James for the past 45 years.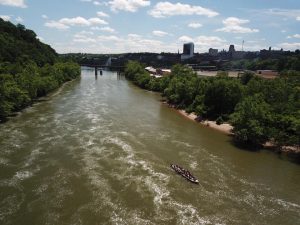 JRA is the only organization solely dedicated to protecting the entire James River and connecting people to it. Throughout the James River's 10,000 square mile watershed, JRA is constantly working towards its vision of a fully healthy James River supporting thriving communities. JRA provides a voice for the river and takes action to promote conservation and responsible stewardship by monitoring the river, responding to problems, seeking policy changes, and implementing on-the-ground projects to restore the river's health. JRA also helps communities benefit from the river by increasing river access, supporting river-related events, and implementing volunteer projects.
While additional offices span the watershed in Richmond, Scottsville, and Williamsburg, JRA's Lynchburg location is the only hub providing outfitter services, enabling fun on the water not only for individuals and families but also for businesses seeking to offer unique and recreational team-building activities to their staff.
James River Adventures also supports and contributes to Lynchburg tourism, with 60-70% of trips booked by guests from outside the region. In addition, James River Adventures offers outdoor recreation and fishing camps, educational paddle trips leaving directly from Riveredge Park, and new for 2021, batteau events which will offer guests the unique opportunity to travel the river in a 1800s-style cargo boat and enjoy richly-woven stories about the history of the James.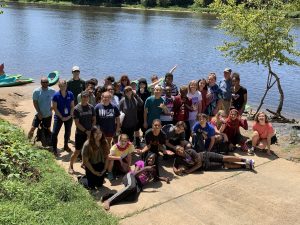 While river outfitter services won't be offered until later this spring, JRA has already launched registration for their  Outdoor Recreation Summer Day Camps serving 4th - 8th graders during the months of June and July. Campers will enjoy both water and land-based activities including swimming, fishing, canoeing, educational science experiments, environmental art projects, and fun team-building challenges. Camp sessions are $250 for five days running 9am - 4pm each day (although extended care options are available).
JRA is excited to welcome the greater Lynchburg community on the water this spring and summer to enjoy the beauty and solace of the river, and encourages everyone to consider their role in ensuring our river's health for future generations. If you're inspired to get involved, JRA has several volunteer opportunities including patrolling the river for pollution, monitoring water quality, and becoming a river hero home, as well as monthly webinars and an advocacy action network helping to advance clean water funding. JRA believes that "when you change the James, the James changes you".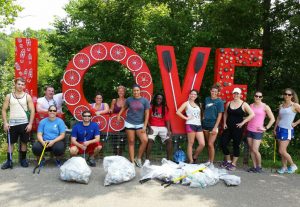 And - be sure to check out trips and events at James River Adventures, opening for the 2021 river season later this spring.