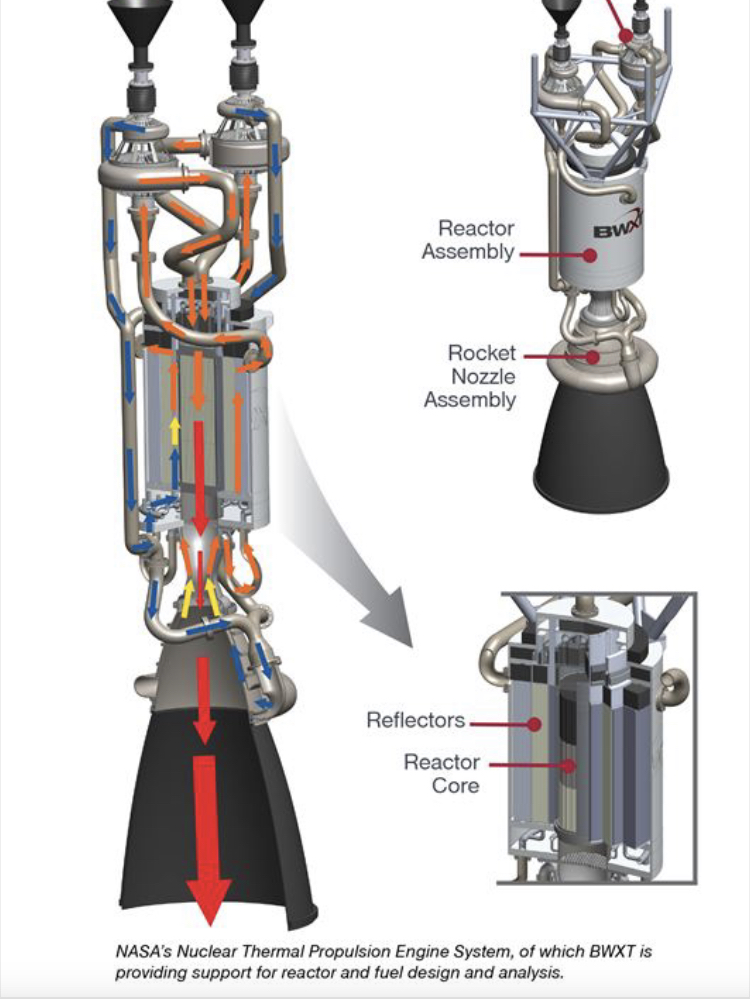 How Innovators Show That the Lynchburg Region is Open for Business
Innovation, as defined by Miriam – Webster, is "the creation of a new idea, method, or device." Around the Lynchburg region, a diverse collection of organizations is leading the way in the development and application of new technologies that may lead even more to make their home here in the region. According to the U.S. Patent and Trademark Office, 505 patents were issued to organizations in the Lynchburg region between 2000 and 2015.
Nuclear propulsion and technologies company BWX Technologies recently drew national attention when NASA's former chief administrator, Jim Bridenstine, visited the company's advanced technology lab and highlighted that, "The mission (to Mars) is very likely to go through Lynchburg, Virginia because of BWXT. The company, through its focus on thermal nuclear propulsion, could help produce nuclear-powered rockets which could make the trip to Mars twice as fast."
Additionally, BWXT has patented additional technologies, bringing a high standard of innovation to the Lynchburg region. In 2015, the company patented an integral helical coil pressurized water nuclear reactor. This nuclear reactor enhances steam production by utilizing a helical coil steam generator, a plurality of internal circulation pumps, and an internal control rod drive mechanism structure. Technologies like this unique nuclear reactor could help the region reduce create new opportunities in non – renewable energy, potentially boosting the local economy and helping to bring more jobs to the area.
Other advances in technology may help elevate the economy in the Lynchburg region by lowering the cost of materials through production machinery. Lynchburg-based Belvac provides rotary machinery to beverage can makers, helping to lay the groundwork for advances in can-making technology. Last December, the production machinery-oriented company patented a series of systems and process-oriented improvements for high-speed forming of containers, potentially allowing for beverage companies to seamlessly produce more units, and leading to a strengthened local economy by driving down the cost of those units as a result.
Another regional leader, Delta Star, which specializes in electrical technologies, parts, and services for power transformers and substations on the electric grid, recently developed a patent for a portable electrical substation racking mechanism. This device helps move elements of a mobile electrical substation between a transport mode and an operational mode. While complex, this technology could potentially help protect the region's infrastructure against expected and unexpected natural disasters, such as the widespread winter storm in Texas that left millions out of power.
Other developments could boost public health as the Lynchburg region continues to recover from the COVID-19 pandemic. NanoSeptic, also based in Forest, VA, recently secured a 2 million dollar grant from the Tobacco Commission to develop a patent for a self-cleaning product, NanoSeptic Surface. Resembling a large sticker, the product can be placed on door handles and other locations that see heavy traffic and oxidizes organic material through a light-powered process that breaks it down to its basic elements.
"It is not meant to clean your hand or clean objects set in the surface," explained Mark Sission, the co-founder of NanoSeptic, "The surface itself is simply self-cleaning,". While not as important to the region's public health as administration and distribution of the COVID-19 vaccines, NanoSeptic sent 3,500 units of their surface-cleaning technology to a hospital in Saudi Arabia to help prevent the spread of MERS syndrome, and 50 units to Lynchburg's own Liberty Christian Academy for use as self-cleaning computer mouse pads.
From public health to paving the way to the first potential manned-mission to the red planet, the Lynchburg region is flexing its knowledge and expertise by specializing in innovation and ideas to reach impressive new heights.