Together we can. Together we will!
Lynchburg region - We are in this together and will get through this together. Please take advantage of the resources compiled below and reach out to us about how we can help you and your business in these unprecedented times. We will continue to add to this page as announcements are made.

Browse the following resources to aid your business and employees.
Browse the following resources to aid your business and employees.

See how organizations in our community are lending a hand.
Want to share how your organization is making a difference?
Send us an email describing what you are doing!

Tools, Tips, & Things to Do
Check out webinars, articles, and other safe ways to support and be informed.

Wednesdays@One Webinar Series
Wednesdays@One is a weekly webinar series hosted by the Alliance, whose goal is to share timely information with businesses and organizations in the Lynchburg region in response to COVID-19. So far we have heard from senators, representatives, local health officials, manufacturers, doctors, small businesses, parents, and more.
To view one of our past webinars, visit our YouTube channel here!
To register for an upcoming webinar, go to our events page here!
Lynchburg Region Small Business Development Center Webinars
The Small Business Development Center- Lynchburg Region continues to hold webinars on a variety of topics relevant to small business. To view their upcoming webinars, click here!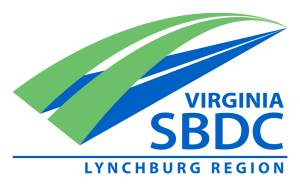 What is the difference between Economic Injury Disaster Loans V.S. the Payroll Protection Program?
Go to the Small Business Development Center: Lynchburg Region website to understand the difference between the Payroll Protection Program (PPP) and EIDLs. And to find out who are our region's local Small Business Administration lenders.
Updates in your community

Response, Recovery, & Renewal
Let's get back to business. Let's do it safely and better than before for our customers, employees, and community. This section contains advice for businesses reopening, guidance on phased plan for Virginia, plans for response and more.
Response, Recover, Renewal Quick Guide
Reopen, Recover, Renew Full Guide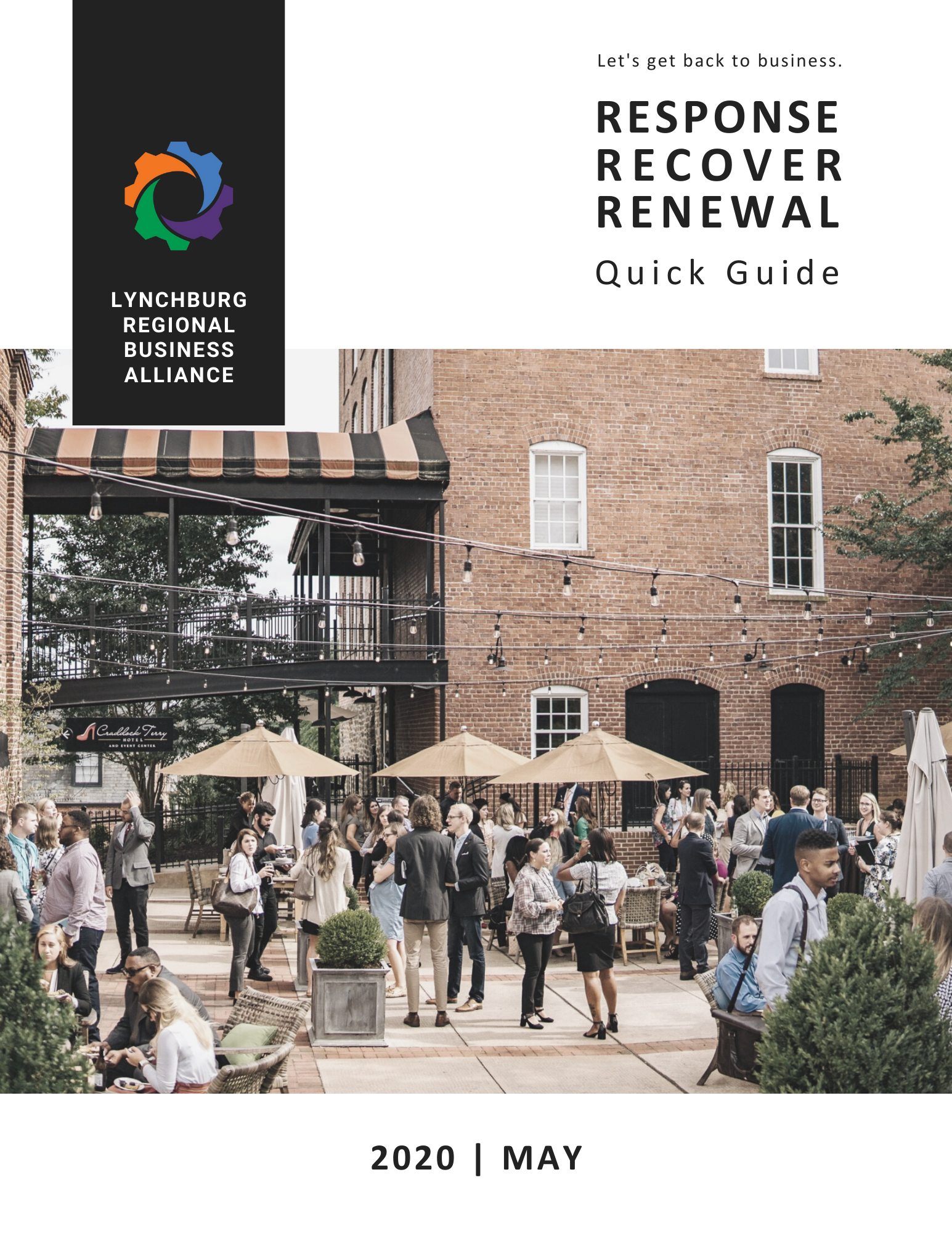 Thinking about reopening and not sure where to start? Take advantage of our quick guide to get you on track to planning your reopening strategy. This guide will help you think about the many questions involved in reopening in the current business climate, such as restrictions, health guidelines, and suggestions to keep you, your employees, and customers safe and satisfied.
Let's get back to business safely!
To download a copy of the quick guide, click here.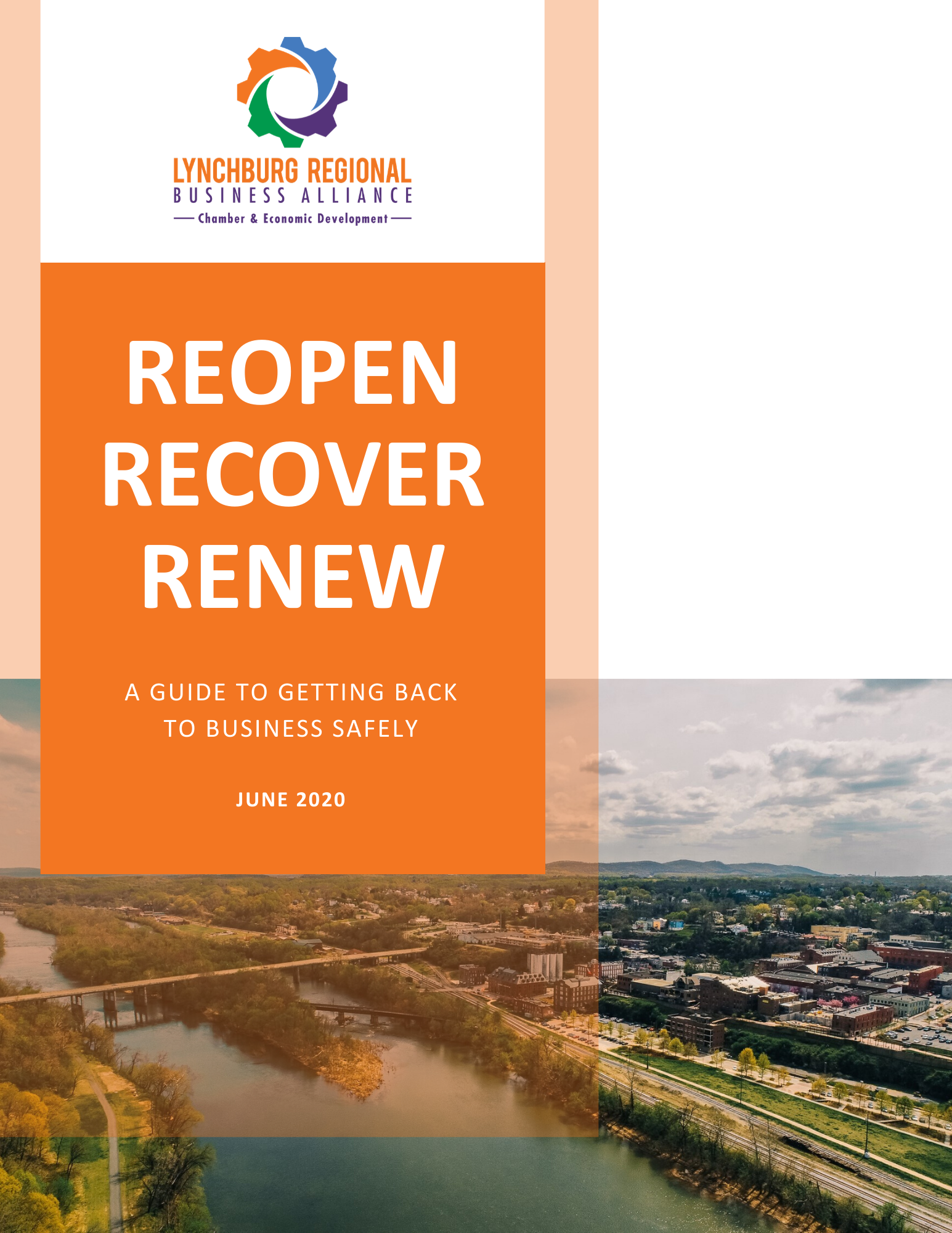 We surveyed individuals and business owners throughout the region, researched guidelines and trends, and held focus groups with leaders from industry sectors to create a guide to safely reopen your business. This guide also provides an overview of federal, state, and local changes such as the Forward Virginia Blueprint, and collects guides and resources tailored to each unqiue industry.
We hope this guide will help you reopen well, and if you have any questions please don't hesitate to give us a call!
You can download the full guide by submitting your email information here.
Latest Information from the Virginia Department of Health