Get to Know the 2021 Candidates for Governor, Attorney General, and Lieutenant Governor
Republican candidate, Governor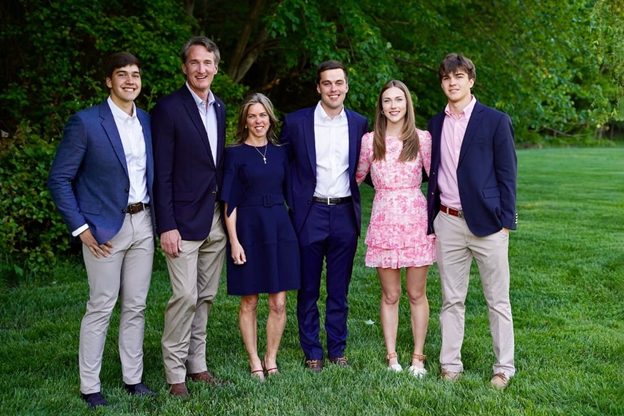 Glenn Youngkin is a homegrown Virginian who grew up in Richmond and Virginia Beach. As his father changed jobs, Glenn learned that moving around didn't equal moving up – nothing was handed to him. From his first job washing dishes and frying eggs at a diner in Virginia Beach, Glenn embraced hard work and responsibility to help his family when his father lost his job. His determination to succeed earned him multiple high school basketball honors in Virginia and an athletic scholarship to college.
After earning an engineering degree at Rice University, and his MBA at Harvard Business School, Glenn and his wife Suzanne moved to Northern Virginia. Glenn landed a job at The Carlyle Group, where he spent the next 25 years. Working his way to the top of the company, Glenn played a key role in building Carlyle into one of the leading investment firms in the world. His efforts have helped fund the retirements of teachers, police officers, firefighters and other frontline public servants and supported hundreds of thousands of American jobs.
Why He's Running
"I'm running for governor because I believe we must rebuild and reimagine Virginia's future and make it the best place in America to live, work, and raise a family. As a homegrown Virginian, I can no longer sit on the sidelines and watch career politicians and insiders in Richmond turn our Commonwealth into California or New York – a place where the cost of living for families is too high and the opportunities for all Virginians to get ahead are too few."
Source: https://www.youngkinforgovernor.com/post/glenn-youngkin-announces-run-for-virginia-governor
Taxes
"Our government in Richmond has runaway budgets, and I believe in small government and efficient government. So today I'm going to sign a pledge to take care of Virginians as opposed to taking care of big government," said Youngkin as he became the first Republican gubernatorial candidate in Virginia to publicly sign Americans for Tax Reform's Taxpayer Protection Pledge.
"As your governor, I'm going to look out for you and we're going to get the cost of living in Virginia down."
Source: https://www.youngkinforgovernor.com/post/video-glenn-youngkin-pledges-to-not-increase-taxes-as-governor
Employment / Unemployment concerns in Virginia
Conservative Republican business leader and candidate for Virginia governor Glenn Youngkin today called for a complete and total overhaul of the Virginia Employment Commission (VEC) as Virginia still ranks last in the nation for resolving unemployment claims. More than 1.5 million Virginians have filed for unemployment in the past year. The average wait time for claims awaiting appeal is 247 days, and some applicants have been waiting more than a year to receive financial assistance.
S‍ource: https://www.youngkinforgovernor.com/post/youngkin-calls-for-complete-and-total-overhaul-of-virginia-employment-commission
On Ending Virginia's State of Emergency & Opening Businesses
Republican nominee for governor Glenn Youngkin, Republican nominee for lieutenant governor Winsome Sears, and Republican nominee for attorney general Jason Miyares released the following joint statement calling on Governor Northam to rescind his state of emergency and bring health code regulations for Virginia businesses in line with CDC guidance.
"Governor Northam's consistently poor leadership has resulted in Virginia employers being left in limbo, caught between following CDC guidance and complying with the more onerous requirements put in place by the governor's Health and Safety Codes Board. There is no reason for Virginia to be out of step with the latest guidance, but that's where we are today because of the regime in Richmond and its unchecked, unfounded edicts. It's time to open Virginia back up and get our economy moving again."
Source: https://www.youngkinforgovernor.com/post/republican-nominees-call-for-governor-northam-to-rescind-state-of-emergency-allow-virginia-businesses-to-follow-cdc-guidance
Excerpts from Youngkin Interview with Ballotpedia
"Virginia's economy has stalled while neighboring states thrive. Virginia's businesses are drowning in high costs and red-tape . We need a governor with real-world experience who can create jobs, keep businesses from leaving, put an open-for-business sign on Virginia, and create a rip-roaring economy that lifts all Virginians."
"I'm running for governor because I believe we must rebuild Virginia's future and make it the best place in America to live, work, and raise a family. Rebuilding Virginia begins by building a rip-roaring economy that lowers the cost of living for all Virginians. I am a conservative who believes that the best government is one that stays out of people's everyday lives as much as possible. I'm committed to not raising taxes, removing regulatory burdens for small businesses, making sure that our children have the best, most affordable education possible, and that our Constitutional rights are protected."